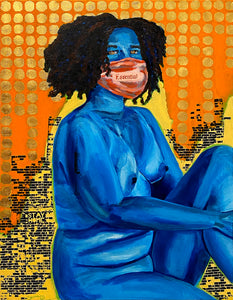 This piece was part of a recent group exhibition at the Van Der Plas Gallery, which can be viewed virtually at this link:

"Under the Mask, A Metamorphosis"

My mixed media portrait of a woman represents the inner turmoil and rebirth of spirit that I have experienced during the pandemic. I entered into a period of deep reflection and spiritual transformation. As the piece progressed, I felt a strong connection with this woman in a mask. There are so many contradictory statements being thrown at us in the media, that I found myself questioning what may be going on behind the scenes that we know nothing about.
Mixed Media
Acrylic, 23kt genuine gold leaf, Transfer Print
24" x 18" Canvas