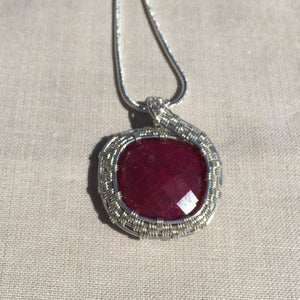 This Ruby is wrapped in Sterling Silver Wire and hangs on an 18" Sterling Silver chain.

Pendant measures approx. 1 1/2" x 1 1/4" x 1/4"

Ruby stimulates the root and heart chakras to increase vitality and chi. It brings self confidence to those who wear it and helps to clear the mind.

I smudge each piece of jewelry prior to shipping, to release any negative energy from the stones so that they will operate at the highest vibration possible.