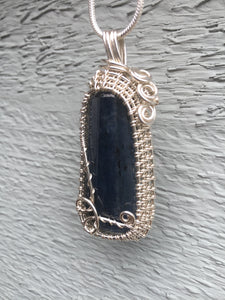 Blue Kyanite hand wrapped in Sterling Silver Wire on an 18" snake chain

Pendant measures approximately 2.25" x .75" x .25"

Kyanite helps regulate all of the chakras and bring them into alignment. It doesn't retain negative energy therefore it will not need to the cleared. Wearing this stone will help to calm your spirit and enhance communication. It is a great stone to use during meditation because of its ability to induce tranquility.