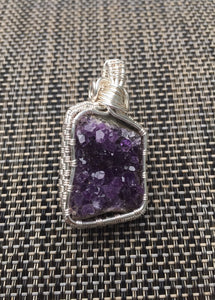 Brazilian Amethyst cluster wire wrapped in Silverplated wire

Amethyst is a great stone to use during meditation. It is a relaxing stone that activates the third eye and crown chakras. It enhances one's intuition and is great for warding off negative energy.

Measures approx. 1 3/4" x 7/8" x 1/2"

I smudge each piece of jewelry prior to shipping, to release any negative energy from the stones so that they will operate at the highest vibration possible.