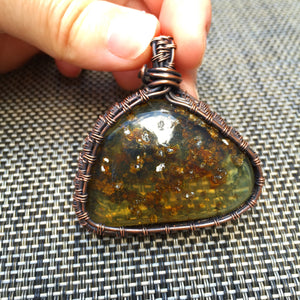 Amber wire wrapped in oxidized recycled Copper
Amber is a stone of manifestation and protection that brings balance and a calming feeling over one's self upon wearing it.

This piece of Amber is wire wrapped in recycled copper wire that has been oxidized.

It measures approx. 2" x 2" x .5"


I smudge each piece of jewelry prior to shipping, to release any negative energy from the stones so that they will operate at the highest vibration possible.